PRAGUE BY MOBILITY SCOOTER AND ON FOOT
special tours for disabled visitors
Broken leg? Arthritis? Or are you just not as good a walker as you used to be?
Despite this, do you want to have a first-hand experience of Prague's beauty, and not only from the window of a tourist bus?
Then our unique sightseeing tours of the historic centre on mobility scooters are just right for you.
Convenient, safe, and most importantly without strain or struggle, you can drive around all the main monuments, about which you will learn many interesting facts from our licensed guides. Your able-bodied friends are also welcome.
Our tours:
We have prepared three barrier-free routes on which you will see numerous sights.
Tours are individual. This means that the group consists only of you and your guide. The guide conforms to you and not the other way round.
All tours start and finish at the Hotel Grandium near Wenceslas Square. Before you start, there will be a short briefing on how to operate the scooter.
Our guides:
We cooperate with qualified, experienced guides who have a licence from the Prague Information Service and also have attended courses organized by the Jewish Museum. The tours are available in Czech, English, German, Spanish and French. Other languages upon request.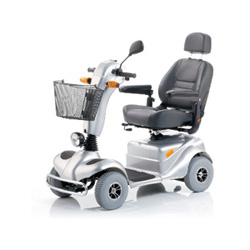 Our scooters:
We only use Cityliner 410 scooters, made by the renowned company Meyra. The scooters are easy to drive, comfortable, quiet and sturdy. They offer a pleasant ride on Prague's cobbles, which in many places make walking or using a wheelchair uncomfortable.